Background
As the summer months approached, and the vegetables ripened, I began looking around for a recipe to capitalize on the season's harvest. I wanted something hearty without leaving the feeling of lead in one's stomach. It took a bit of searching, and summer's end before I finally found a recipe I liked. The solution: a pasta dish that combines a selection of vegetables roasted with olive oil, smoked cheeses, and marinara sauce.
Ingredients
2 red peppers, cored and cut into 1-inch strips
2 zucchini, quartered lengthwise and cut into 1-inch cubes
2 summer squash, quartered lengthwise and cut into 1-inch cubes
4 cremini mushrooms, halved
1 yellow onion, peeled and sliced into 1-inch strips
1/4 cup extra-virgin olive oil
1 teaspoon salt, divided
1 teaspoon freshly ground black pepper, divided
1 tablespoon dried Italian herb mix or herbs de Provence
1 pound Penne pasta
3 cups marinara sauce
1 cup grated Fontina cheese
1/2 cup grated smoked mozzarella
1 1/2 cups frozen peas, thawed
1/4 cup grated Parmesan, plus 1/3 cup for topping
2 tablespoons butter, cut into small pieces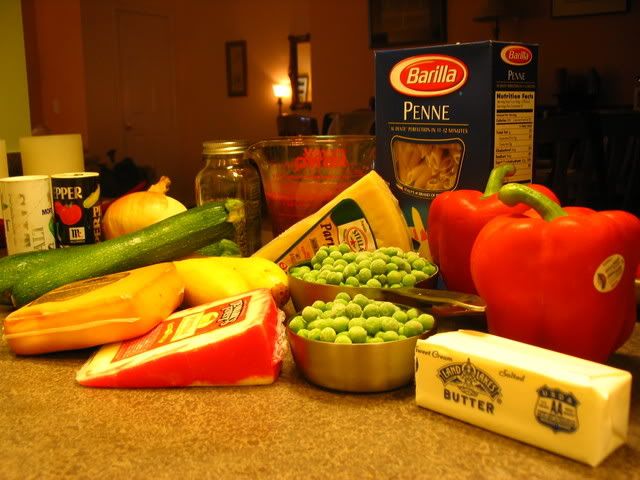 General Instructions
Toss the vegetables with the olive oil, one half of the salt and black pepper, and the dried herbs and roast in the oven at 450 degrees F for about 15 minutes. Bring a large pot of salted water to boil and cook the pasta for about 6 minutes (it will cook fully in the oven). In a large bowl, combine the drained pasta, roasted vegetables, marinara sauce, cheeses, peas, and 1/2 teaspoon of salt, 1/2 teaspoon of pepper. Pour the mixture into a greased 9 by 13-inch pan and top with the remaining 1/3 cup Parmesan and butter pieces. Bake in a 450 degree F oven until the top is golden and the cheese has melted (approximately 25 minutes).
Suggestions
I almost never buy store-bought marinara sauce, choosing instead to make my own, so I cannot offer a suggestion as to which to buy. My marinara sauce is liberally spiced with red pepper flakes, and I found the hint of heat to compliment this dish well. I would encourage you to look for a jarred marinara that boasts a bit of heat.
The vegetables ended up roasting a bit longer than 15 minutes, as the timer was accidentally turned off. Though unintentional, I would recommend an additional couple of minutes. The extra time allowed the onions to carmelize nicely and lent the other vegetables some nice color. I would also recommend grating additional Parmesan for the crust. I felt the 1/3 cup was just a bit short, not really adequately covering the entire dish. One final note: keep an eye on this one in the oven. My oven runs just a bit hot, but this dish was "done" well before the 25 minutes were up. Going the full cooking time would have left any pasta at the surface inedible. As it was, at 20 minutes there were still more than a few pieces that were chewy/hard as a rock.
Opinion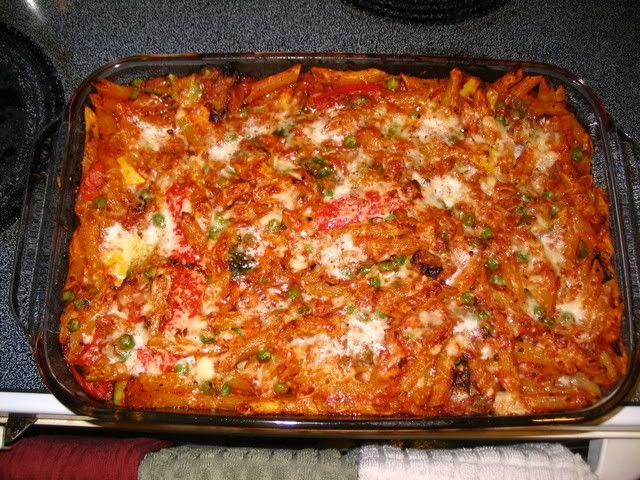 I have to say, this dish was a home run, with both my husband and I declaring definitively this would go into the regular rotation! It was exactly what I hoped: a dish that was simultaneously light and hearty. The vegetables were superb, both in texture and flavor. The onions were particularly complimented by the smokiness of the mozzarella. The combination really made the smells wafting from the kitchen irresistible while the dish was in the oven! Key to the success of this meal: getting a bit of pasta, a couple of veggies, and a nice taste of cheese in each bite. This dish will feed more than a couple, I'll let you know how the leftovers reheat!