Background
For those who don't know, I happen to be a Notre Dame alum, and rabid ND football fan. Following the disaster of last season I was excited, but incredibly apprehensive, to ring in the new football season. After a close week 1 victory over San Diego State I decided I would observe the ND-Michigan matchup with a little something new from the kitchen to nosh on while wishing the Wolverines ill will. At least the outcome of the game didn't disappoint!
Ingredients
24 large cremini mushrooms (1 1/2 pounds), stems discarded
1/4 cup plus 2 tablespoons extra-virgin olive oil
1 teaspoon rosemary leaves, plus one 3-inch sprig of rosemary
Kosher salt and freshly ground pepper
3 tablespoons fine bread crumbs
6 ounces fresh goat cheese, cut into 24 pieces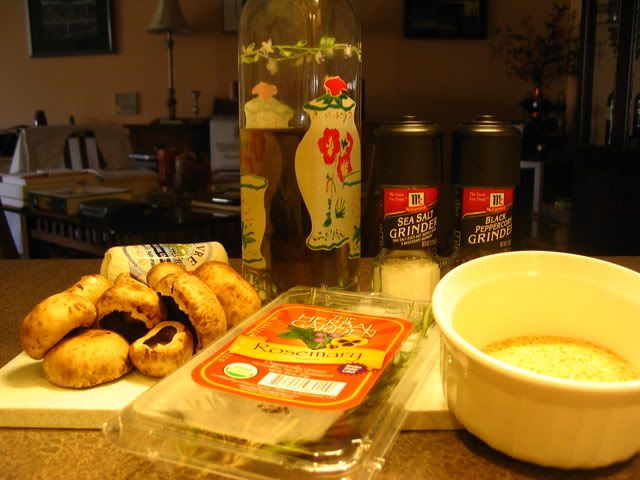 General Instructions
In a bowl, toss the mushrooms with 3 tablespoons of olive oil and the rosemary leaves. Season with salt and pepper. Place on a baking sheet, rounded sides up, and bake at 400 degrees F for about 30 minutes, until tender and the rounded edges are browned. Let the mushrooms cool to room temperature.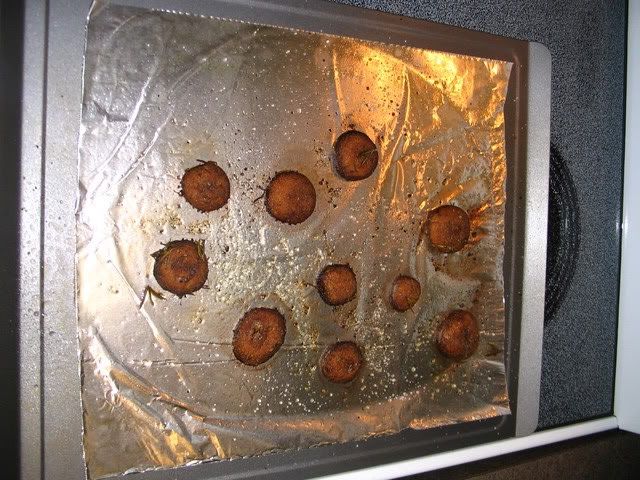 In a skillet heat the remaining 3 tablespoons of oil and add the rosemary sprig, cooking over moderately high heat until the leaves are crisp, about 30 seconds. Drain on paper towel, then strip the leaves. Pour off all but 1 tablespoon of the oil and add the bread crumbs to the skillet. Toast over moderate heat until golden and crisp, about 2 minutes. Stir in the fried rosemary leaves and season with salt and pepper.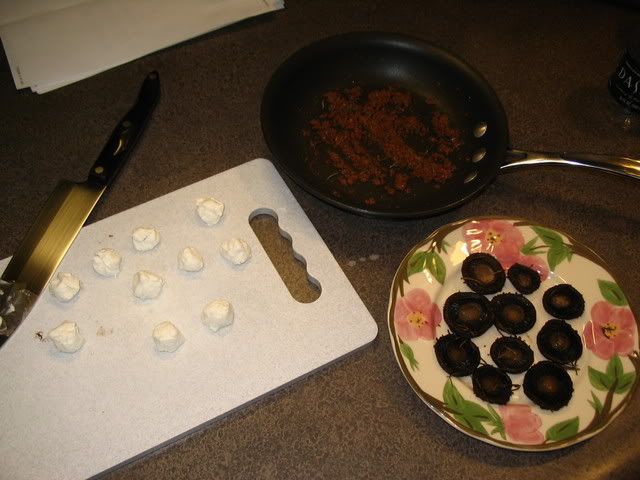 Gently press a piece of goat cheese in the center of each mushroom, sprinkle with the bread crumbs, and serve.
Suggestions
It is hard to be objective in my suggestions with this dish, as it completely struck out. I would certainly reconsider the ratio of cheese to mushroom in this preparation. My mushrooms cooked down quite a bit, leaving the cheese pieces I had prepared excessively large. The amount of cheese seemed to completely overpower the mushroom. Another suggestion I might make is in regard to the rosemary leaves. While I love the taste of rosemary, encounters with whole, cooked leaves in a dish are, for me at least, less than enjoyable. I would certainly consider mincing the rosemary in any future preparation.
Opinion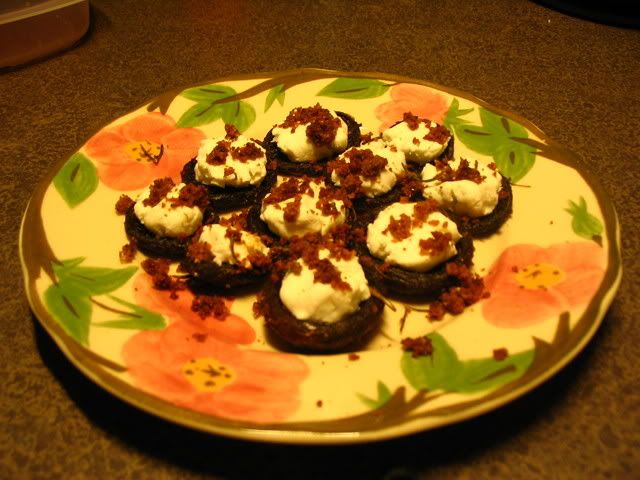 I was completely ready to fall in love with this dish prior to its preparation. So much so that I had even prepared myself to overlook what I knew would be annoying twigs of rosemary competing for my attention. It simply fell totally flat! As I said before, the cheese to mushroom ratio was quite unbalanced. The cheese, though mild mannered, completely disguised the mushrooms, making them a vehicle rather than a complimentary component. The bread crumbs, while lending a nice contrast in texture and an additional plug for the rosemary, simply didn't add much overall to the package. The end result was an appetizer that was nothing short of uninteresting! Quite a shame, for I do so love both goat cheese and mushrooms. This one really only musters a weak 2. At the very least the game was less disappointing!