Background
I suppose I may have to go back and categorize this week as the week of balsamic vinegar! I have actually tried this recipe a couple of times with great results and an enthusiastic response. It is a wonderfully easy and satisfying dish that requires little more than a combination of a handful of ingredients and a brief run through the oven. And for those who enjoy wings, feel free to substitute wings for the drumsticks. The results are equally excellent!
Ingredients
1/2 cup balsamic vinegar
1/2 cup honey
1/4 cup soy sauce
5 sprigs of rosemary
5 garlic cloves, halved
10 to 12 chicken drumsticks
Optional:
2 tablespoons toasted sesame seeds
Combine the balsamic vinegar, honey, brown sugar, soy sauce, rosemary, and garlic in a large re-sealable plastic bag. Shake and squeeze the contents of the bag to dissolve the honey and brown sugar. Add the chicken, seal the bag with as little air as possible in the bag, and place in the refrigerator to marinate for two hours.
Preheat the oven to 450 degrees F. Place the chicken on a foil-lined baking sheet and bake until the skin is caramelized, about 30 to 35 minutes.
Place the leftover marinade in a small saucepan and bring to a boil. Reduce the heat to achieve a gentle simmer and cook over low heat until thickened, about 15 minutes.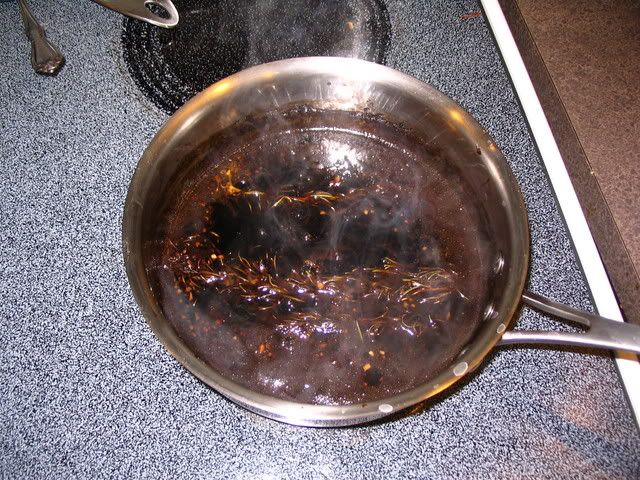 Use a pastry brush to brush some of the marinade on the cooked chicken. If using, sprinkle the sesame seeds and chopped parsley over the cooked chicken.
This may seem an inconsequential suggestion, but in the preparation of the marinade I would suggest breaking down and mixing the ingredients in a medium to large bowl. Shaking and squeezing the bag don't quite achieve dissolution of the honey. A bowl and a whisk are a more efficient and successful approach. A second recommendation: spray the foil-lined baking sheet with a non-stick spray. The residual marinade on the chicken makes for a wonderful glue, and in this recipe the crispy skin is key! For those that try this with drumettes, the adherence issue was more problematic. Also, keep an eye on your oven. The caramelization process does result in some (possibly significant) smoking. No one wants to deal with screaming fire detectors at dinner time!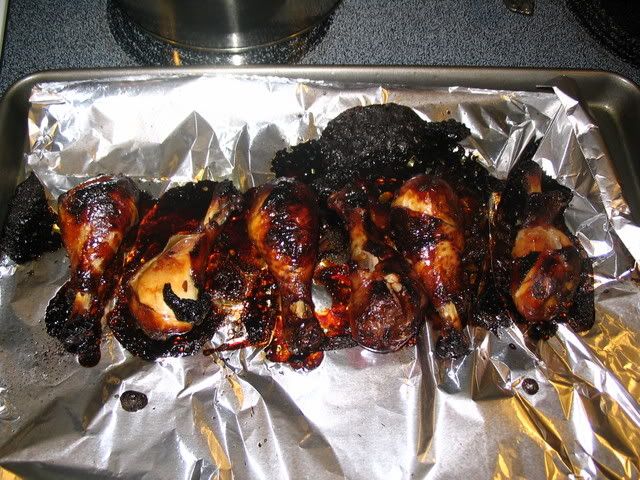 My husband and I have enjoyed this dish several times, both with drumsticks and drumettes. It is really quite easy to prepare, making for an appetizing dish during the week when time is short. I have to give this a 4, both for taste and ease of working it into the regular rotation. The tartness of the balsamic vinegar will perk up your taste buds, while the honey and brown sugar will lend a very nice, sweet counter punch. Keep your buds on the watch for the lovely hint of rosemary-- it really lends a fresh overtone to the chicken.