Background
One of my favorite chefs, Giada De Laurentiis, has very rarely steered me wrong. With few exceptions I have been impressed with her recipes. So impressed in fact, that I have three of her cookbooks and frequently refer to her recipes on The Foodnetwork when looking for inspiration for dinner or when considering a recipe tweak. When I came across this one, I knew it was only a matter of time before I pulled it out and put it to the test. To compliment the dish, I tossed green beans and asparagus with olive oil, salt, and pepper and roasted them at a moderately high heat. I wasn't quite sure what wine to pair with it, so I went out on a limb with a wine I've had several times and will continue to pick up in the future: d'Arenberg's Hermit Crab, a 2006 Viognier Marsanne that never fails to please.
Roasted Garlic:
2 heads garlic
2 tablespoons olive oil
Salt
1 3 1/2 to 4 1/2 pound boneless pork loin
Salt and freshly ground black pepper
Vinaigrette:
1/4 cup chopped fresh parsley leaves
1/2 cup balsamic vinegar
3/4 cup extra-virgin olive oil
1 teaspoon sugar
1 teaspoon salt
1/2 teaspoon black pepper
Cut the garlic in half crosswise, drizzle with olive oil, and sprinkle with salt. Wrap the garlic in aluminum foil and roast in a 475 degree F oven for 1 hour. Season the pork loin on all sides with salt and pepper and place in a heavy roasting pan. Place the pork loin in the same 475 degree F oven 30 minutes after beginning the garlic. Cook until an instant-read thermometer registers 140 to 145 degrees F, about 30 to 40 minutes. Remove the pork from the oven and tent with foil, allowing it to rest for 15 minutes.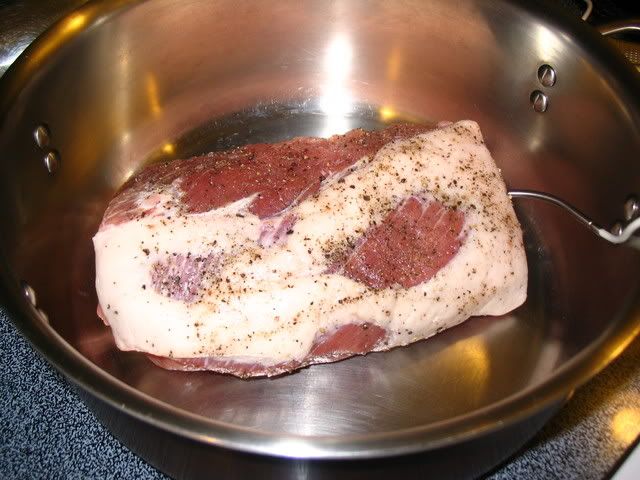 Meanwhile, prepare the vinaigrette by removing the garlic cloves and combining them with the parsley and balsamic vinegar in a blender. Drizzle the olive oil into the blender while the machine is running. Add the sugar, salt, pepper, and water and blend until well incorporated.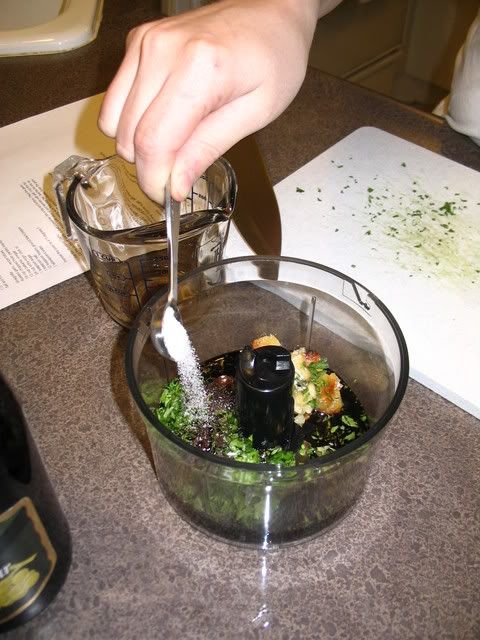 To serve: slice the pork and drizzle with the vinaigrette.
I have to qualify this recipe with a guilty admission: many people claim that you should never try a recipe for the first time other than the way it is written... Oops! For two people, a 4 pound roast was just too much, so I roasted a two pound pork loin and halved the vinaigrette portion of the recipe. Keep that in mind when considering my suggestions for this recipe. 
One word of warning: even with a digital in-oven thermometer, the cooking time was tricky. The recipe states 30 to 40 minutes are required for a 3 1/2 to 4 1/2 pound pork loin. My thermometer claimed my roast had reached an adequate internal temperature after just 27 minutes, not an unreasonable extrapolation to a 2 pound pork loin I thought. One slice into the pork loin though, revealed very pink meat and pink juices. I would definitely suggest going the full 40 minutes, possibly even adjusting the cooking time up, depending on how you like your pork cooked and the size of your pork loin. If you can stick it out with the cooking time you will have a delightful meal, as the vinaigrette was well worth the effort. I simplified the preparation and cleanup for the vinaigrette by using an immersion blender and an attachment that acts as a mini food processor.
Opinion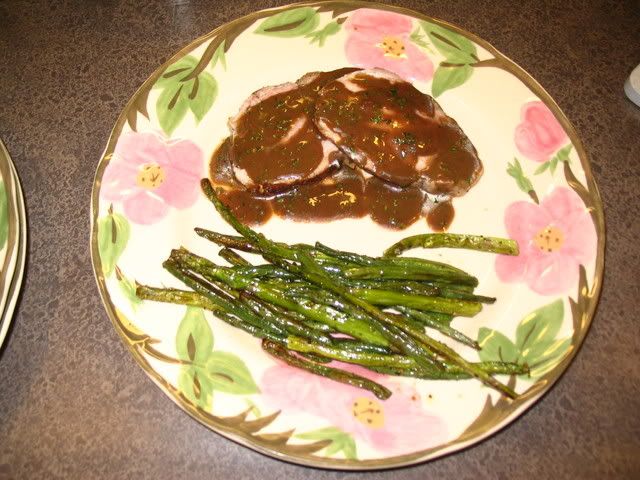 Prior to preparing this dish it occurred to me that a scale for rating dishes I prepare might be in order. Part of what makes preparing a dish exciting is not only the ability to enjoy it in the moment, but the possibility of discovering something you can't live without having again. The risk to that little adventure: ending up with something you wouldn't feed your worst enemy! But, with those opposite ends of the spectrum, I concocted a scale for future reference:
5 Mind blowing epiphany
4 Make it part of the regular rotation
3 Consider the possibility of letting it pass your lips again
2 Starving animals need to eat
1 Recycle the paper the recipe is printed on
This dish, despite the hassle with the cooking time, was certainly a 3, possibly worthy of a 4.  I
loved
the vinaigrette. The garlic was in no way overpowering, and its sweetness was complimented by the addition of sugar. That is not to say that the sweetness was unbalanced- the vinegar and oil together combined for a perfect tart counterbalance.  The vinaigrette will be something I put on my shelf for future visits.  I would happily make it again for salads or even grilled beef.  The pork was somewhat unremarkable, serving mostly as a vessel for the vinaigrette. What this dish lacks in excitement is made up for in ease of preparation, cooking time conundrums not withstanding.
The wine... Well, I continue to be ever pleased by this wine, as with everything else I've tried from this Australian winery. The acidity of the wine actually paired quite well with the acidity/tartness of the vinaigrette. That being said, I can't say that this was a particularly stellar combination. The Viognier Marsanne was incredibly delicate, a crisp and dry, refreshing white that I have previously paired with crab cakes (a much better pairing in my opinion). The pork may have complimented the light fruit in a different setting, but the vinaigrette in the end overpowered the wine.