Background
I found this recipe several weeks ago after stopping by the market and finding so many wonderful fresh vegetables that I couldn't quite decide which to leave behind! After picking out a variety of goodies, squash, zucchini, asparagus, tomatoes, and green beans to name a few, I was ecstatic to rummage through my recipe collection and find a gem that allowed met to capitalize on the bounty. For the vegetarian, or for the perfect accompaniment to a main entree, this dish really is one to remember.
Ingredients
5 tablespoons extra-virgin olive oil, plus more for dish
2 medium onions, thinly sliced
3 medium cloves garlic, minced
2 1/2 teaspoons kosher salt
1/4 cup fresh basil leaves, torn
2 teaspoons chopped fresh thyme leaves
5 to 6 medium plum tomatoes, sliced into 1/4-inch rounds
2 medium zucchini, sliced into 1/4 inch rounds
2 medium yellow summer squash, sliced into 1/4-inch rounds
1/2 cup finely grated Parmesan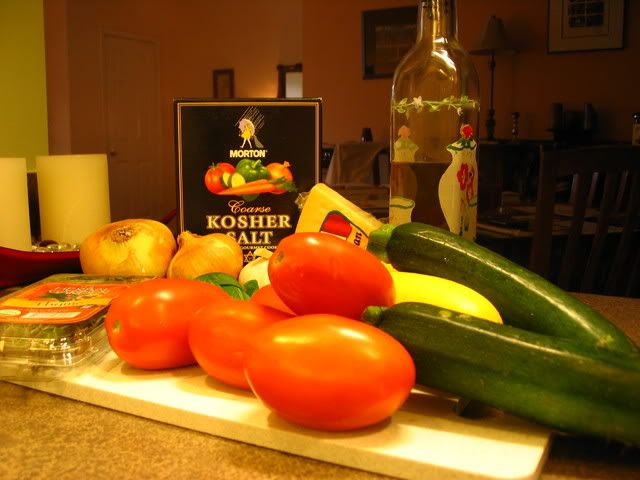 General Instructions
Heat 2 tablespoons of olive oil in a medium to large skillet over medium low heat and add onions, garlic, and 1 teaspoon of salt. Cook, stirring occasionally until softened and cooked, but not browned, about 5 minutes. Stir in the basil and thyme. Spread on the bottom of a lightly greased 7 by 11-inch baking dish.
Toss the sliced vegetables with the remaining olive oil and salt. Season with pepper to taste. Alternate the sliced vegetables in compact upright rows on top of the onion mixture.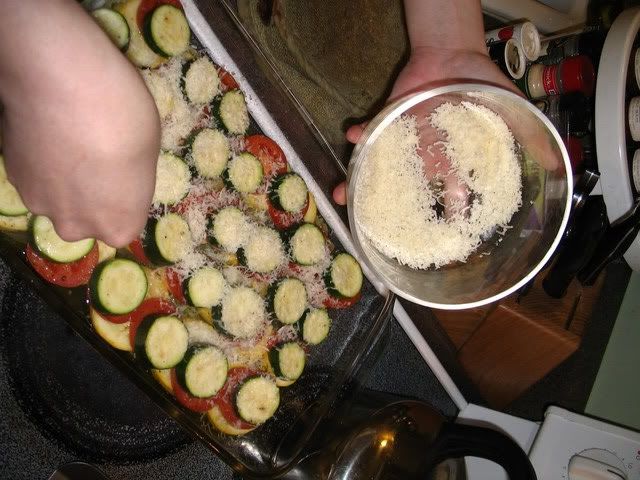 Cover the dish with aluminum foil and bake at 375 degrees F until the vegetables are softened, about 30 to 35 minutes. Uncover and sprinkle with the Parmesan. Continue baking until the cheese begins to brown, about 20 minutes.
Suggestions
This is one dish that I actually have few suggestions to offer up, finding little room for improvement. I happen to be a cheese lover, as you might have noticed in at least one previous post, so my main suggestion would be to add an additional bit of Parmesan. The cheese, as my husband suggests, is something you actually look forward to with each subsequent bite. A little extra helps make a very nice crust. If you really like your cheese, consider a bit of freshly grated Parmesan added to an individual serving. If you like your crust nice and crispy consider additional cooking time, or a brief run under the broiler.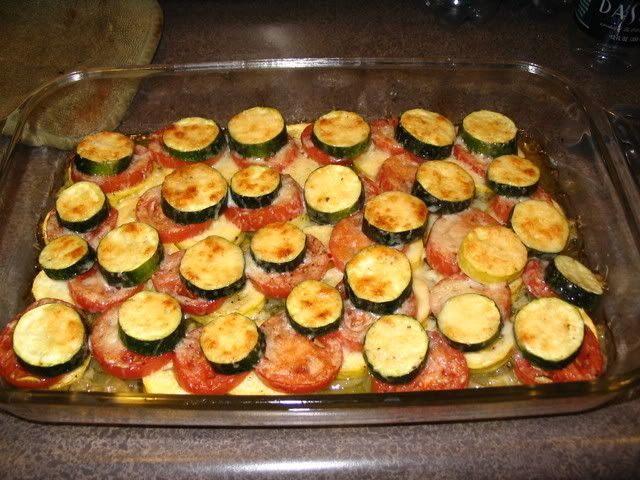 Opinion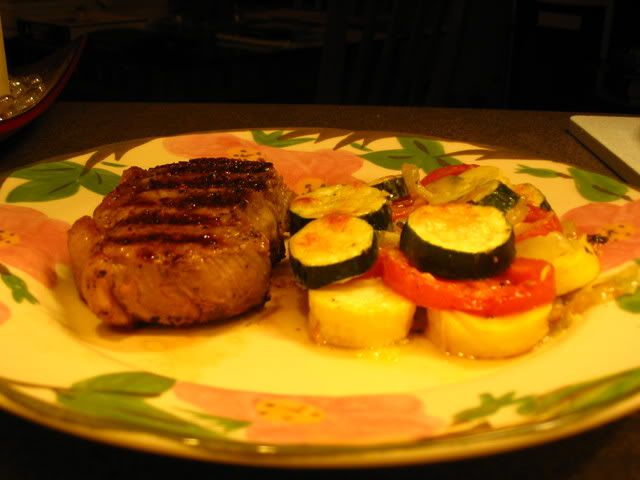 This is a wonderfully light dish! In fact, the first time we had this we had it on a "veggie night," serving it as the main dish. The basil and thyme give this a wonderful earthy flavor, complimented nicely by the garlic and onions. The squash, zucchini and tomatoes are simply a vegetable lover's dream. The cooking time leaves them incredibly tender, but not mushy. But the best might just be saved for last-- the Parmesan, nicely crisped really does add an extra something to the dish. A solid 4, no doubt!